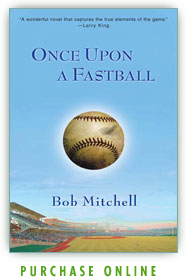 Larry King, host of CNN's Larry King Live and bestselling author of Why I Love Baseball
"A wonderful novel that captures the true elements of the game."
Tim McCarver, lead game analyst for MLB on FOX, Emmy Award winner, and former All-Star catcher
"Whimsical and delightful!"
Chris Berman, ESPN anchor and six-time winner of National Sportscaster of the Year
"Back....Back....Back....Back. Yes, Once Upon a Fastball by Bob Mitchell is a home run. The four unforgettable trips to baseball's past that Mitchell has artfully conceived are among the most entertaining and touching tales you'll ever read."
Fay Vincent, eighth commissioner of Major League Baseball and author of The Last Commissioner: A Baseball Valentine
"This is much more than a baseball novel. Bob Mitchell obviously knows and loves our Game, but he is also a scholar and his erudition shows through in this story. Once Upon a Fastball celebrates things Mitchell and I both love: history, poetry, baseball, family traditions, and noble values. No wonder I liked it immensely."
Dan Shaughnessy, longtime Boston Globe sports columnist and author of The Curse of the Bambino
"Bob Mitchell writes like a crafty veteran with a lot of pitches. In Once Upon a Fastball, he mixes baseball, history, and family to show us how sports connects. Enjoy.''
T. Jefferson Parker, N.Y. Times bestselling mystery author and winner of several Edgar Awards
"An endearing tale of love and loyalty, set within the great history of baseball. Whether your passions are for the game, the men who have played it, or the millions of people who have worshipped in the stadiums…this delightful romp is a love letter to a time gone by."
Joshua Prager, senior special writer at the Wall Street Journal and author of The Echoing Green
"Previous fiction has landed Bobby Thomson's mid-century home run in the eager little hands of two children--Cotter Martin and Pauline Watkins. Once Upon a Fastball bestows the prize to their literary grandpa, Solomon Stein. In this sweet, nostalgic little book, the Spalding is a portal to ball games past that in time neatly heal a broken family."
BookPage
"A baseball novel that mixes magic with a devotional fondness for the game's days gone by… Author Mitchell obviously knows and loves the game, and he offers a fanciful and engaging story."
San Diego Union-Tribune
"Heartwarming."
Publishers Weekly
"Exciting and loaded with lore."
Grand Rapids Press
"A time-travel baseball story reminiscent of If I Never Get Back by Darryl Brock… Fastball is a breeze to read, but it delivers lots of curves—literary clues that make you want to re-read passages and try to solve the mystery…. Mitchell's story is close to a Hall of Fame effort"
International Falls Daily Journal
"Once Upon a Fastball by Bob Mitchell is a joyous tribute to our national pastime as well as a suspenseful tale of a missing man, a magical ball, and the greatest baseball game ever played. Another great read for the cabin or the stands at the ball field."
Marty Appel, former PR Director for the N.Y. Yankees, award-winning author, and President of Marty Appel Public Relations
"Bob Mitchell writes a novel like Mariano Rivera deals with a ninth inning—artfully and brilliantly.  Few have successfully used baseball in crafting a novel as well as Bob has. This one is a joy."